10 Things That Make Camping With Kids (a little) Easier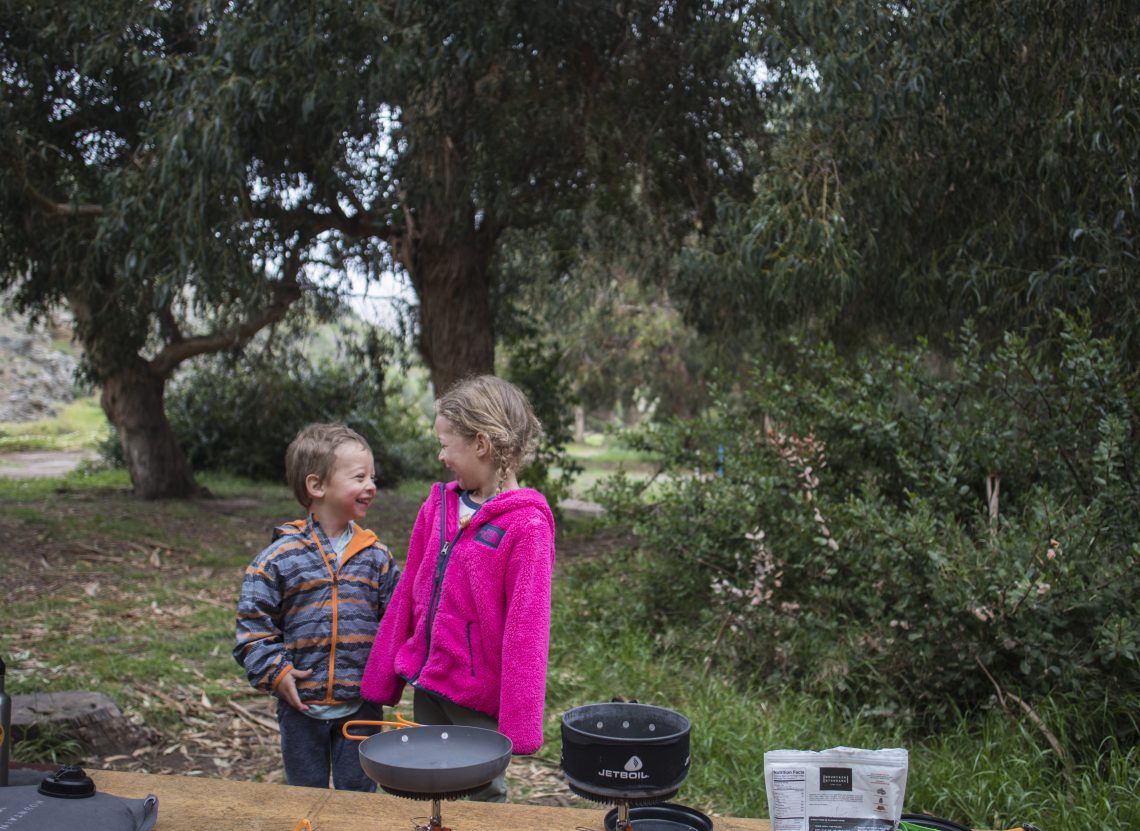 Camping is supposed to be fun right? Being prepared can help spread the odds it will be.
Notice that the title of this post is not items that make camping with kids easy because that is like a family camping unicorn: mythical. Our kids love camping, but it still takes a whole lot of effort on our part to pack, plan, research, and then try, try again. But here are a few of our favorite family car-camping products that make the cut every time.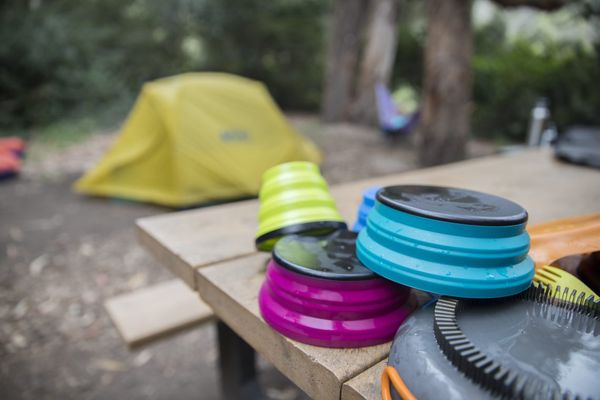 1.) Sea to Summit Collapsible X-Plates & X-Bowls
These dishes have been a staple in our family's camp kitchen for years.
Why: Everyone in your family can have their own color an they take up next to no space when collapsed. They are extremely durable, easy to clean, did I mention the colors?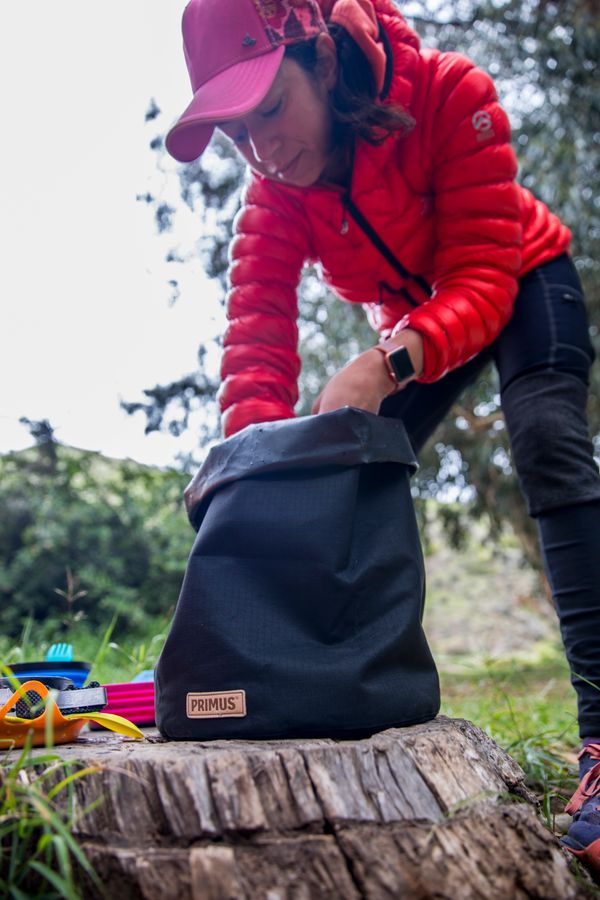 2.) Primus CampFire Utility Sack
This utility sack comes in handy for washing & hauling water without taking up much space.
Why: You can scrunch up this bag to smaller than a roll of paper towels, but have convenient sack for washing dishes, or use the roll top closure to carrying water, or great for hauling trash as well.
3.) Mountainsmith Zip Top Hauler + Mountainsmith Basic Cube Bundle
Why: Keeping our stuff organized while camping seems like a never-ending quest – join me, won't you? I wish this hauler fit four bundles, but until then this is the best solution I've come up with. Color coding is life, so the kids and I each get our own color making it much easier to find stuff when we're on the road.
4.) Black Diamond Whiz Headlamp
Why: Nothing can spoil a relaxing night by the campfire like getting continually high-beamed by a child with a light on their head. Luckily this headlamp features a cool, colored LED mode providing light while avoiding parental night-blindness. We loved the smart, kid-focused features like a head that tilts in both directions meaning it can worn upside down (hey Black Diamond, can we adults get in on this?!) and tiny battery drainers beware: this baby powers off automatically after 2 hours if left on accidentally.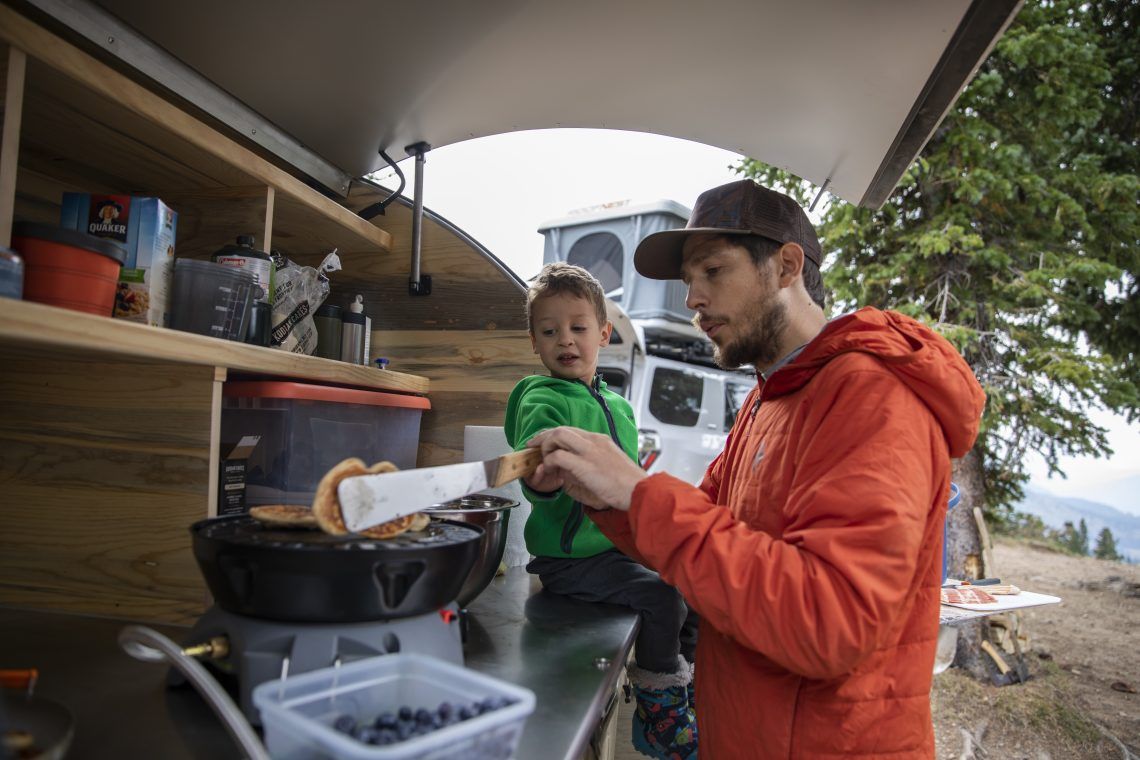 5.) Primus OpenFire Spatula
On our teardrop camping trip with Colorado Teardrops we made pancakes on the camp stove using the Primus Openfire Spatula. .
Why: A great spatula is essential for flipping pancakes, burgers, and bacon without being sinjed! This heavy duty handle is easy for little hands to grip and long enough to be used over an open fire (with adult supervision, duh.)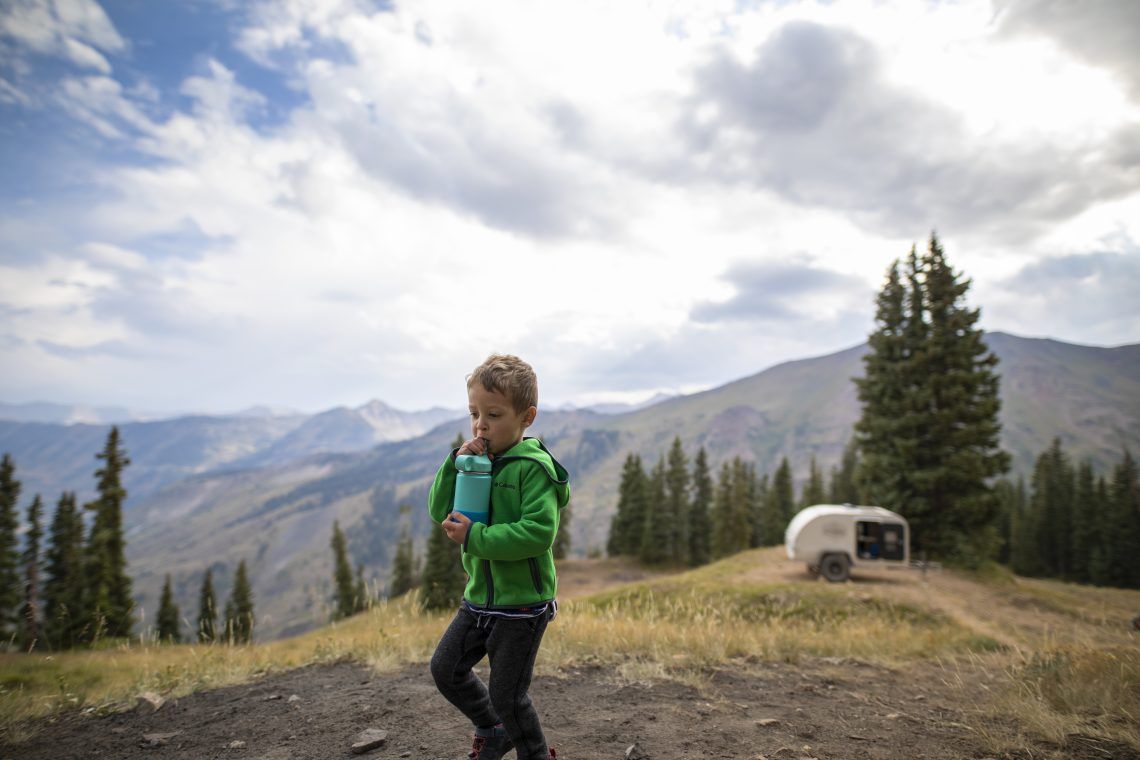 6.) Hydro Flask 12 oz Kids Wide Mouth
Max drinks from his Hydro Flask on our teardrop camping trip in Crested Butte, Colorado.
Why: This vacuum-sealed metal bottle is not only bomber for little hands that tend to drop things…like, a lot, but kept our ice water iced during the summer's brutal desert temps. Where other bottles we've tried with plastic bite valves tended to leak after extended use, the rigid straw mouthpiece stood up to our most nibble-y testers. No removable bite valve also means one less moving part to remove, clean, or grow mold. Bonus: Hydro Flask offers a lifetime guarantee on these babies, meaning I've thrown out my last expensive water bottle due to leaks.
7.) Kelty Tru. Comfort Kids 35
Why: We love the built-in blanket system of this bag. The integrated blanket folds over the opposite side of the zipper closure giving kids, so even if the zipper meanders down from tossing & turning they will stay covered. And when temps are higher they can sleep completely unzipped with just the blanket, which is nice for kids who have trouble getting used to mummy sleeping (don't we all). This bag also boasts an oversized hood which can fit a standard pillow and a loops to attached their bag to their pad.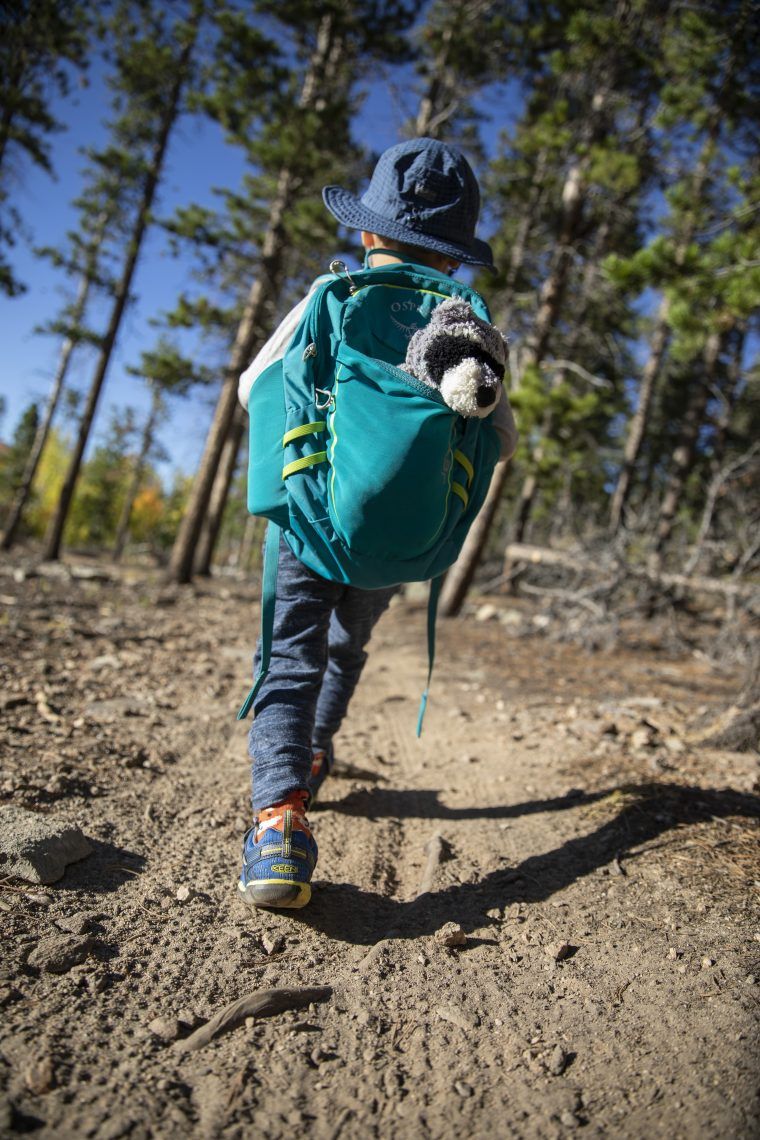 8.) Osprey Jet 12 Kids Day Pack
This pack is well organized with deep water bottle & shove-it pockets.
Why: If you have aspirations of Backpacking with your kids it's a good idea get them used to carrying a pack as soon as they're walking. We've loved this small day pack with the technical chops of any adult pack in a tiny package. Beware of the dreaded sternum strap whistle –kid approved, adult loathed, but there's a whole slue of pockets to keep all their extra gear and treasure found along the way. This bag is big enough for snacks, an extra change of clothes, water bottle, some small toys. All the pockets make it easy to find and store everything they need and best of all it's not on my back in addition to everything else.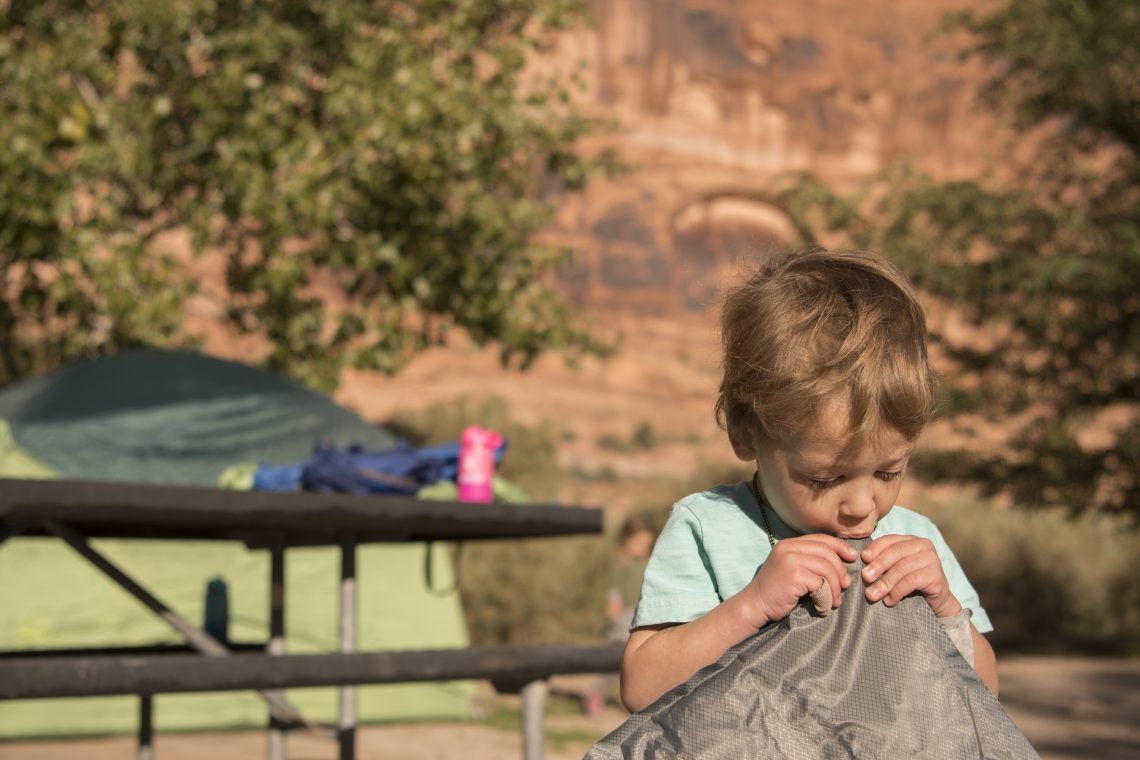 9.) Klymit Static V Junior Sleeping Pad
Kids love helping set up camp. Breaking it down? Not so much.
Why: I'll be honest: when Jesse is setting up camp with the kids and it's time to inflate sleeping pads I often find myself busy with anything else. But this Klymit pad is affordable, rolls up to the size of the 12oz Hydro Flask bottle, and inflates in just several breaths. Best of all the V shape cradles kiddos who make a nasty habit of sliding right off their pads and into you midway through the night. Klymit also is on the offers a lifetime guarantee on their inflatable products.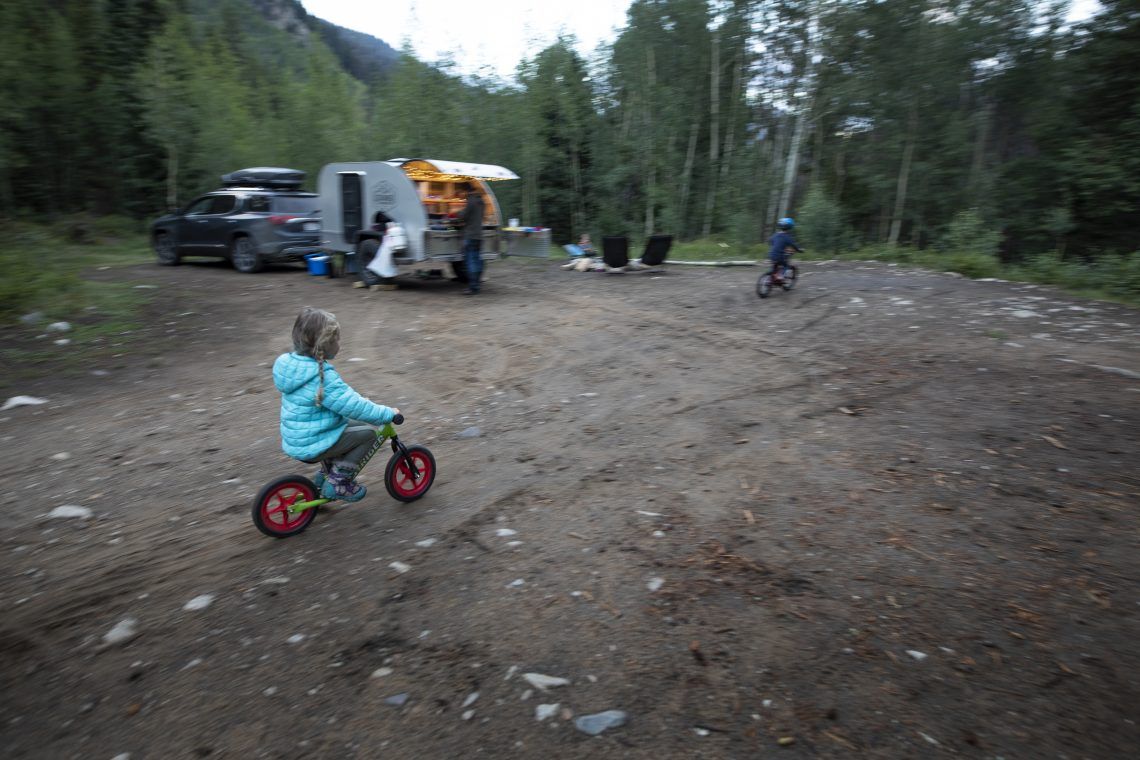 10.) BOGS B-MOC Insulated Boots
Sofia zipping around camp on a balance bike.
Why: We are not sponsored by BOGS nor am I obligated in any way to promote them. But do yourself a favor and give them a try. They are the warmest boots, and not just for winter – no, no. These make there way in our bags for any camping destination because, ya'll it's cold outside in mornings and nights regardless of the season in the mountains or desert, which is typically where we go. The photo above is AUGUST people. They are furry inside making them super-plush, and as well know warm feet = happy kids.
What are your favorite camping products that make the whole just a little easier? Comment below and let us know!